Welcome to

Proud to be an AKC's Breeder of Merit…
where dedication meets passion.
Established 1994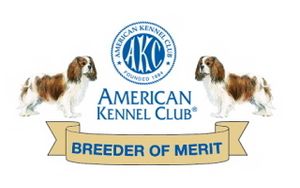 About the Cavalier King Charles Spaniel
The Cavalier King Charles Spaniel (CKCS), otherwise known as the Cavalier, is an affectionate and intelligent toy dog that gives endearing devotion to their owners. Cavaliers are not kennel dogs --- they are lap dogs, and are wonderful companions. The CKCSs want to love you and be loved, and to sleep in a soft bed - preferably your bed.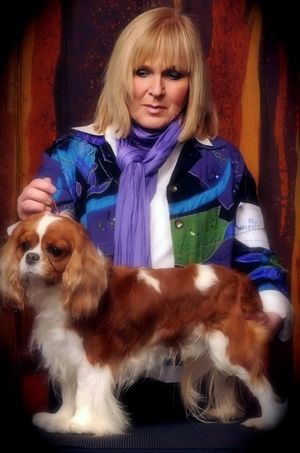 Stuarthome has proven dedication to the Breed by Service & Philanthropy 
Stuarthome is a small, dedicated AKC show breeder of the Cavalier King Charles Spaniels located in the state of Michigan. On this website, you can read about Kathryn Yonkers love for the breed as demonstrated by her dedication to the Cavalier King Charles Spaniel by her service & philanthropy. Furthermore, this personal website exist to showcase and celebrate Stuarthome's beautiful Cavaliers and to educate the public about the breed. Thank you for taking the time to visit! 
                                                        Stuarthome's Philosophy 
Stuarthome's primary goal with each breeding is to produce healthy, beautiful show quality Cavalier puppies. Furthermore, Stuarthome's philosophy is to only breed our girls once or twice in their lifetime after health screenings by board certified specialists. Subsequently, puppies are carefully reviewed as Stuarthome's show prospects potentials. After the assessment, puppies made available as pets will be placed with spay/neuter agreements. Overall, people that have our Cavaliers are considered as part of the Stuarthome's extended family.
Please complete the Stuarthome's questionnaire & then we will discuss availability along with future plans. If we do not have a Cavalier available, we recommend going to the AKC parent club, the American Cavalier King Charles Spaniel Club's breeder referral at ackcsc.org 
Stuarthome is a voting member of the American Cavalier King Charles Spaniel Club, Inc. This club is the AKC Parent Club for the Cavalier King Charles Spaniel in the United States of America. 
                                         Information about the Cavalier King Charles Spaniels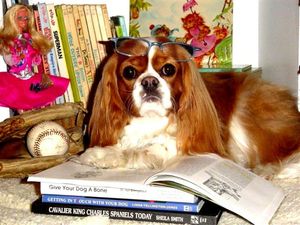 ---
About 'Designer Dogs' ... and the Myth that they are Healthier

The findings from surveys performed by the late George A. Padgett, DVM, Veterinary Pathologist & Professor Emeritus, College of Veterinary Medicine, Michigan State University and author of Control of Canine Genetic Diseases: Mixed-breed dogs have more genetic diseases than purebred dogs. There are 215 known diseases in mixed breed dogs, with 71 percent of them having defective genes. The idea that a mixed-breed dog is likely to have less genetic diseases than a purebred is a misconception.
If you want a mixed-breed dog, please go to a rescue or the animal shelter.
There are wonderful mixed-breed dogs in rescue, waiting for loving homes!
We support rescue. We do not believe in breeding 'designer dogs'!


All pages Copyright © 1997 to present: Stuarthome Cavaliers ~ All rights are reserved- 

All rights reserved. 03/01/2008
You may not copy any text, graphics or pictures from these pages without written permission.