The beautiful picture is of
Stuarthome Dance Smartly
first litter of 3 boys born in December of 2020. She was age 3 at the time. They were sired by BISS, BIS, Champion (ICH) Royal Romance Baxxter (Germany
)
who is 10 years old with current health clearances, 
    Stuarthome Bold Ruler (Theo), Stuarthome Sir Archie (Archie) RN FDC THD, CGCA, TDKN and Stuarthome Maxamilion Rex (Max).
Update 3/2023: Stuarthome Dance Smartly's grand champion sired litter has turned out nicely. There are two beautiful male puppies available, which are fully vaccinated and vetted, to approved homes. Puppies' parents are health tested as with all Stuarthome Cavaliers. Read about the Person behind Stuarthome CKCS. Please complete the
questionnair
e
, if you want be considered. You will receive a follow-up email (if not received, check your folders and email us) from stuarthomeckcs2@aol.com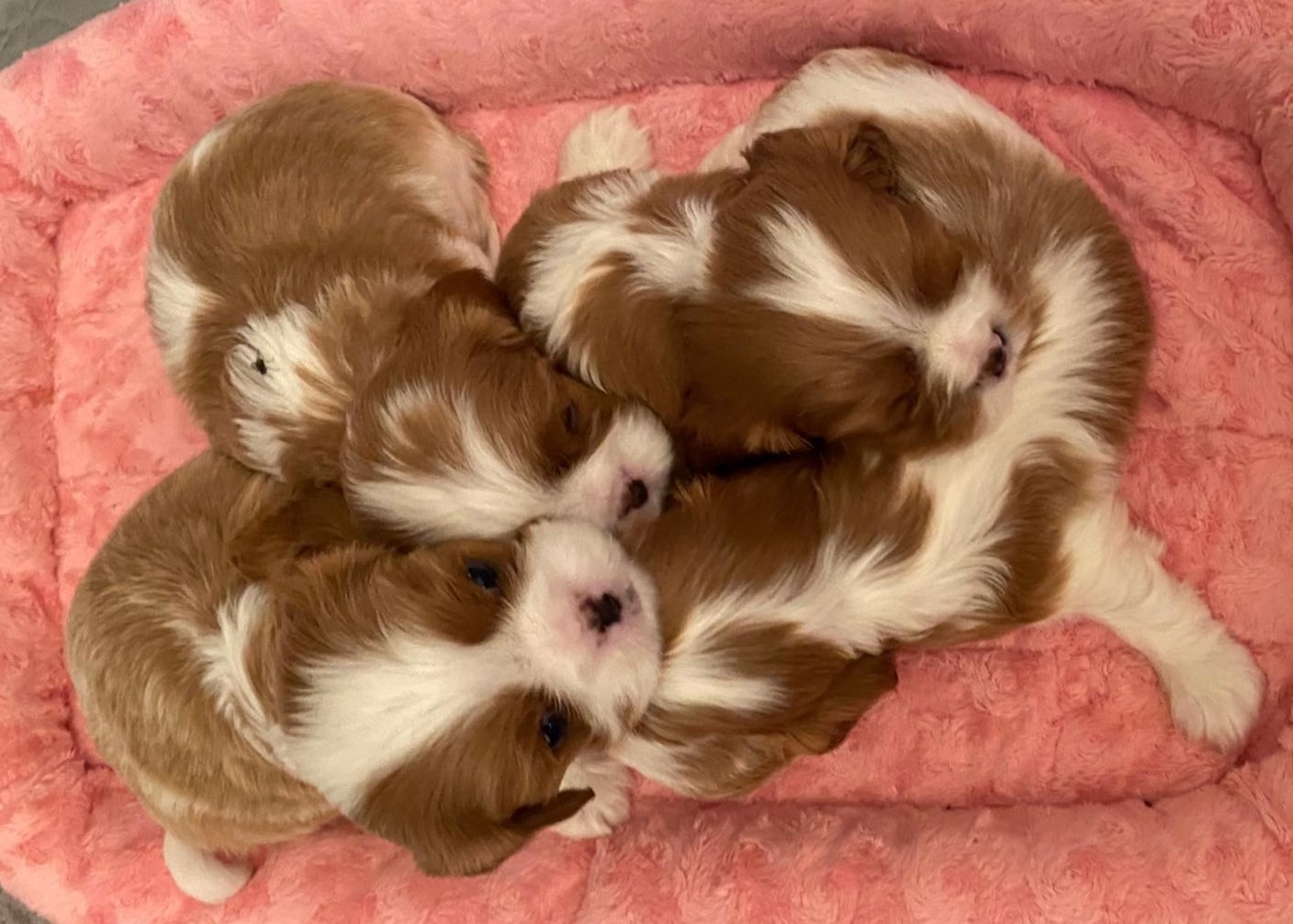 All About Responsible Hobby Show Breeders- A reputable hobby show breeder has a wealth of knowledge of the breed and experience with problems and issues that may come up. A reputable hobby show breeder will try to determine if his or her breed is suitable for your lifestyle and personality. In addition, a reputable hobby show breeder will select a puppy or adult for you based the temperament of the puppy or adult and your particular situation. The key points are a reputable hobby show breeder is a lifetime resource for you and your dog.
Feel free to complete the
inquiry 
questionnaire
to be on our contact list and we will inform you of future potentials. The questionnaire helps us match Cavaliers to potential homes.  We do not keep a wait list.
A reputable show hobby breeder selection considerations:
Comfort and compatibility with individual breeder.
Honesty and integrity; will tell you the advantages as well as shortcomings of the breed.
Reputation on the national level.
Understanding of breed as whole.
Goals are betterment of the breed and selection of appropriate homes for puppies & adults, not profit.
Resource for problems and questions.
Potential for long-term relationship.
Experience.
Health screenings conducted by specialists.
Active membership in the AKC parent Cavalier club, The ACKCSC.
Once you have found a hobby show breeder that fills those requirements, you may have to wait longer for a puppy or adult. Never consider a Cavalier sight unseen! Be patient and wait for your special puppy or adult! It will be well worth it