Kelica Moondancer at Stuarthome is 'clear by heredity' of the CC/DE & EFS Genes;  
Both parents were clear of CC/DE & EFS Genes.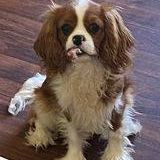 Kelica Moondancer at Stuarthome alias Pink (Ch Althof California Chrome x Kelica Miss L'toe Kiss, NA NAJ). She is linebred on Maibee and the Timsar Miss Line. Her dam is CH Angel's Pride Benjamin Button's daughter, CH Timsar Master Spellmaker's granddaughter and CH Timsar Mister Moonlighter's great granddaughter. Her sire is a CH Angel's Pride Gentleman's grandson. She is enjoying her dried duck foot in this picture.
AKC CH Carmas Opalescence at Crizwood

German Champion VDH + Club VDH Winner 2007 VDH Europeanjuniorwinner 2007 Winner Thüringen 2007 VDH Juniorwinner 2006 VDH Century Junior Winner World Junior winner Poland 2006 VDH Juniorchampion / Juniorchampion Club, Veteranchampion Club Veteranchampion VDH Veteranenwinner Berlin 2014 Veteranenwinner Berlin-Brandenburg 2014 VDH European Veteranenwinner 2014 VDH Spring Veteranenwinner 2014

AKC CH Lyrenstan Farolito of Winridge Hills